Flyers from Hobby Lobby
Hobby Lobby ad
Valid: 5 Jun until 10 Jun
This Hobby Lobby ad filled with offers is still valid for 5 day(s). View the latest deals from Hobby Lobby and save on purchases at Hobby Lobby.
Keep me updated
Want to receive a notification when the newest Hobby Lobby ad is online?
23.663 people already preceded you
Keep me updated
Want to receive a notification when the newest Hobby Lobby ad is online?
34.729 people already preceded you
Hobby Lobby Weekly Ad and Deals
Hobby Lobby is a household name when it comes to crafts and finding unique items for your home and hardware for your next project. If you love doing DIY projects, including decorating your fence, then you'll love seeing all the deals and promotions in the Hobby Lobby weekly ad. There are hundreds of Hobby Lobby stores located across the country, so finding a store near you should be a breeze. These stores are famously known for their seasonal selection of materials that make every DIY project simple and easy. It's not your typical hardware store because it offers a more personal touch when shopping for things that matter most, including an exceptional selection and value on everything they sell. Just check the store flyer to see all the latest promotions and offers. Shop Hobby Lobby for a Super Selection!
What products are on sale in the Hobby Lobby Store?
Whether you want to make a beautiful wreath for your front door or create your own wood picture frames, you'll find all the products you need right here in the weekly ads. If you want to start from scratch and make canvas art drawings or some other creative project, you can score some excellent deals and offers on many of the trending items found in the Hobby Lobby stores. They often have paint supplies, craft materials, and small hand tools on sale with a nice discount in the sales ad. Plus, you can always find coupons or a promo code in the weekly ads that lead to big savings or check out the membership deals and exclusive offers in their webshop. If you want to benefit from some spectacular offers, simply sign up for the rewards program and check the weekly ad to see all the low prices. You'll find tons of deals in the specials for this week and offers next week.
What are the opening hours and store locations for Hobby Lobby?
There are plenty of Hobby Lobby stores located throughout the country, so regardless of whether you live in Cleveland, Houston, Orlando, or somewhere in between, you'll be able to shop at these markets. Just visit the website to see all the locations and opening hours for a store nearby. You can also visit hobbylobby.com to browse the weekly ads and see the weekly special for some fantastic ideas on what you should make next, including fun family projects or decor for your deck or backyard patio. You can also download the Hobby Lobby app to browse the weekly ads, locate stores near you when traveling, and so much more. Just be sure to check the weekly ad for all the specials and offers on all your favorite items. Remember, shop Hobby Lobby for a Super Selection!
Your Hobby Lobby store
View the most current ads and offers from Hobby Lobby and never pay more than you should. Hobby Lobby has 576 stores in the United States of America with weekly competitive offers. In the latest Hobby Lobby ad you will find offers, that are valid from 05-06-2023 to 10-06-2023. This week there are 0 products, which you can buy at a discount, and possibly for the lowest possible price. Don't miss out on offers such as: Summer celebrations stools by ashland®, Lifeproof shenandoah oak 0.27 in. t x 6.5 in. w x 48.03 in. l waterproof engineered hardwood flooring (21.7 sq. ft./case) and Rubbermaid commercial products wavebrake 35 qt. plastic mop bucket with wringer! Of course, Hobby Lobby offers plenty of more products, which are currently not on sale. You can order these in the webshop or pick them up at a pickup point or shop in your area. Choose your nearest location with our "location finder" in the top menu, next to the search box. You can also find more information such as the opening hours of your store in 4S Ranch CA, Abilene TX, Adrian MI or any other store in the United States of America on the Hobby Lobby website.
If you can't find what you're looking for in the Hobby Lobby ad, check for offers at similar stores in the same category: DIY, such as The Home Depot, Lowe's or Valu Home Centers. You may be able to find the product you are looking for at the lowest price there. In addition to the promotions from the ad, you can also save money at Hobby Lobby with a discount code. Check the Hobby Lobby website to get yours.
Frequently asked questions about Hobby Lobby
Show all...
Hobby Lobby promotions
🛍️

Hobby Lobby ads:
1

🆕

New offers:
0

🏷️

Category:
DIY

🕰️

Last flyer update:
06/05/2023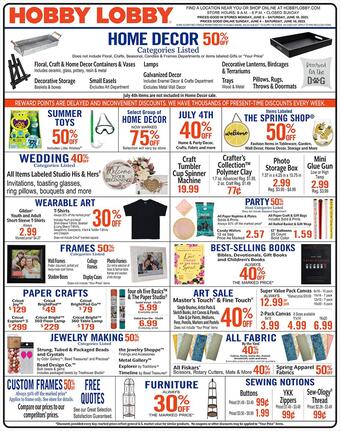 View the Hobby Lobby ad in the app first!
View all leaflets and compare special offers from hundreds of stores near you!