Flyers from Petsmart
Petsmart ad
Valid: 24 May until 6 Jun
This Petsmart ad filled with offers is still valid for 5 day(s). View the latest deals from Petsmart and save on purchases at Petsmart.
Keep me updated
Want to receive a notification when the newest Petsmart ad is online?
41.176 people already preceded you
Keep me updated
Want to receive a notification when the newest Petsmart ad is online?
11.914 people already preceded you
PetSmart Weekly Ad and Deals
PetSmart is the largest specialty pet retailer that offers services and solutions for the lifetime needs of all your pets. In the PetSmart flyer, you'll discover how much they love pets and how they believe that pets make us better people. They have great deals on pet supplies, including food, treats, toys, grooming items, beds, and so much more. Just check the weekly ads on this page to see all the actions and get a discount on all your favorite products, including seasonal clothing and toys, to add more fun and joy to any holiday. Whether you have a dog, cat, bird, hamster, reptile, fish, or any other pet, you'll find all the best offers, promotions, and specials in the circular. The newest sales ad is always available right here, and you can visit the store website to find even more exclusive offers and deals. Shop PetSmart, Anything for Pets!
What products are on sale in the PetSmart Store?
In the specials for this week and offers next week, you'll find deals with big savings on all your favorite products, including pet beds and toys. The latest weekly ad shows all the offers with a discount and deals on all kinds of gadgets for your pets. You also find promotions for pet furniture, hamster cages, dog leashes, cat toys, and a variety of pet food and treats. Just check the weekly ad to see where you can score the best deals and if there's a promo code to get even a more significant discount on the already low prices. Join the 'treats' program to score membership deals, coupons, and receive all the sales notifications. You'll also find the hottest deals in the weekly special right here on this page. Download the mobile app today to start saving money, book services, get special offers, play their Treat Trail Game, and more right at your fingertips.
What are the opening hours and store locations for PetSmart?
PetSmart operates approximately 1,650 pet stores in the United States, Canada, and Puerto Rico, as well as more than 200 in-store PetSmart PetsHotel® dog and cat boarding facilities. They also provide a broad range of competitively priced pet food and products and services such as dog training, pet grooming, pet boarding, PetSmart Doggie Day Camp™, and pet adoption. You'll easily find locations in big cities like New York City, Chicago, Cleveland, Los Angeles, San Francisco, or Miami Beach. Just visit the website and search stores near me to view all stores and opening hours for the one closest to your location. You can also view the weekly ads while shopping for all the great offers online at petsmart.com and have all your items delivered right to your front door without having to leave your home. Just check the store flyer on this page for all the latest deals, offers, promotions, and specials. Remember, shop PetSmart, Anything for Pets!
Your Petsmart store
View the most current ads and offers from Petsmart and never pay more than you should. Petsmart has 0 stores in the United States of America with weekly competitive offers. In the latest Petsmart ad you will find offers, that are valid from 24-05-2023 to 06-06-2023. This week there are 36 products, which you can buy at a discount, and possibly for the lowest possible price. Don't miss out on offers such as: Temptations™ classic adult cat treats - soft & crunchy, tasty chicken, Wellness® minced cat food - natural, grain free and Wellness® signature selects cat food - natural, grain free! Of course, Petsmart offers plenty of more products, which are currently not on sale. You can order these in the webshop or pick them up at a pickup point or shop in your area. Choose your nearest location with our "location finder" in the top menu, next to the search box. You can also find more information such as the opening hours of your store in Chicago IL, Los Angeles CA, Miami or any other store in the United States of America on the Petsmart website.
If you can't find what you're looking for in the Petsmart ad, check for offers at similar stores in the same category: Pet Supply Stores and Garden Centers, such as Pet Supplies Plus, Petco or Pet Smart. You may be able to find the product you are looking for at the lowest price there. In addition to the promotions from the ad, you can also save money at Petsmart with a discount code. Check the Petsmart website to get yours.
Frequently asked questions about Petsmart
Show all...
Petsmart promotions
🛍️

Petsmart ads:
1

🆕

New offers:
36

🏷️

Category:
Pet Supply Stores and Garden Centers

🕰️

Last flyer update:
05/25/2023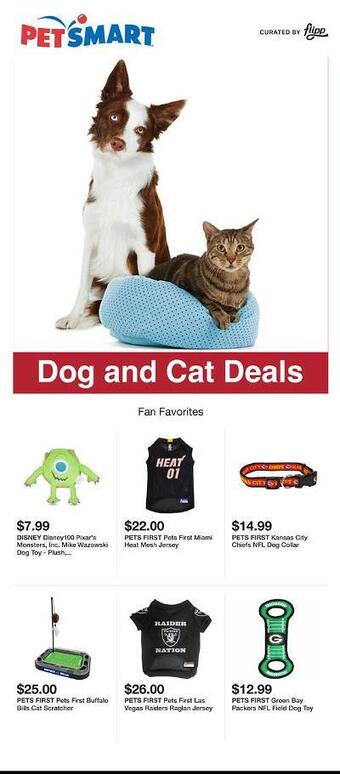 View the Petsmart ad in the app first!
View all leaflets and compare special offers from hundreds of stores near you!