Weekly ads from Skechers
Skechers Weekly Ad
Valid: 15 Sep until 15 Oct
This Skechers Weekly Ad filled with offers is still valid for 20 day(s). View the latest deals from Skechers and save on purchases at Skechers.
Keep me updated
Want to receive a notification when the newest Skechers ad is online?
25.766 people already preceded you
Keep me updated
Want to receive a notification when the newest Skechers ad is online?
47.981 people already preceded you
Skechers Weekly Ad and Deals
Skechers is an American company specializing in the manufacture of shoes and has been operating for the last thirty years. Driven by innovation, Skechers offers a complete collection of footwear, apparel, and accessories for men, women, and kids. Forward, innovative, and always on trend, the brand's formal, casual, and special collections inspire millions to enjoy a wide range of activities in style and comfort. Check out the Skechers flyer on this page to see all the latest offers, deals, and specials. The sales ad is always available here, and you can visit their website for more exclusive offers and promotions. Shop Skechers— Get Comfortable!
What products are on sale in the Skechers stores?
In the circular ad, you can find many products, ranging from exquisite footwear to stylish clothing, chic accessories, and kids' apparel. When you browse the specials for this week and offers next week, you will find amazing offers and discounts on women's footwear, tops, dresses, men's shoes and clothing, and more. You can find exciting promotions on a vast range of footwear that completely goes with your shirts, jackets, loungewear, jeans, etc. Just check the weekly ad to see where you can score the best deals and if there's a promo code to get an even bigger discount on the already low prices. You'll find all the membership deals, digital coupons, and the weekly special right here on this page or in the app.
What are the opening hours and store locations for Skechers stores?
You can find these stores easily in New York City, Miami, Los Angeles, Chicago, and more. Just visit the store website and search stores near me to get a complete list of nearby locations and their opening hours. You can browse the weekly ads and deals online at skechers.com and get 20% off by signing up for email. Over the years, Skechers has proudly provided its customers with the finest products and best quality at reasonable prices, and it will continue to do so. Remember, shop at Skechers— Get Comfortable!
Your Skechers store
View the most current ads and offers from Skechers and never pay more than you should. Skechers has 382 stores in the United States of America with weekly competitive offers. In the latest Skechers Weekly Ad you will find offers, that are valid from 15-09-2023 to 15-10-2023. This week there are 0 products, which you can buy at a discount, and possibly for the lowest possible price. Don't miss out on offers such as: Wilson nfl limited football, Natural reflections easy river distressed cuff shorts for ladies and Kershaw conduit assisted-open knife! Of course, Skechers offers plenty of more products, which are currently not on sale. You can order these in the webshop or pick them up at a pickup point or shop in your area. Choose your nearest location with our "location finder" in the top menu, next to the search box. You can also find more information such as the opening hours of your store in Chicago IL, New York, Abilene TX or any other store in the United States of America on the Skechers website.
If you can't find what you're looking for in the Skechers ad, check for offers at similar stores in the same category: Sports, such as Nike, The North Face or Under Armour. You may be able to find the product you are looking for at the lowest price there. In addition to the promotions from the ad, you can also save money at Skechers with a discount code. Check the Skechers website to get yours.
Frequently asked questions about Skechers
Show all...
Skechers promotions
🛍️

Skechers ads:
1

🆕

New offers:
0

🏷️

Category:
Sports

🕰️

Last flyer update:
09/15/2023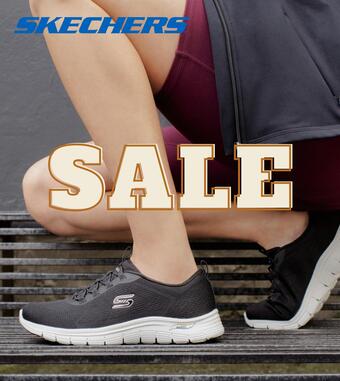 View the Skechers ad in the app first!
View all leaflets and compare special offers from hundreds of stores near you!