Flyers from Boost Mobile
Boost Mobile ad
Valid: 10 Apr until 10 Jul
This Boost Mobile ad filled with offers is still valid for 39 day(s). View the latest deals from Boost Mobile and save on purchases at Boost Mobile.
Keep me updated
Want to receive a notification when the newest Boost Mobile ad is online?
48.727 people already preceded you
Keep me updated
Want to receive a notification when the newest Boost Mobile ad is online?
32.165 people already preceded you
Boost Mobile Weekly Ad and Deals
Boost Mobile is one of the few smartphone providers that offer great services without any annual service contracts. They have over 3,000 locations located across the country and can be found in just about every state. They offer 99% nationwide coverage with unlimited talk, data, and text. With Boost Mobile, you pay for almost everything up front and get exactly what you pay for without any hidden fees or additional costs. They offer incredible unlimited high-speed data at low prices with no annual contracts, no monthly bills, no credit checks, no roaming charges, and no overage fees. You'll find all the best deals and offers right here in the weekly ads for the latest mobile devices with all the bells and whistles accessible in their app.
What products are on sale in the Boost Mobile Store?
In the weekly ads, you'll find an array of deals and specials that offer big savings on some of the most popular mobile phones and devices. You'll be able to keep more money in your pocket thanks to all the fantastic smartphone promotions found in the sales ad and on their website. You can choose from top-tier manufacturers like Samsung, Apple, LG, and Motorola. Boost Mobile offers everything from your basic flip phones to the trending ultra-powerful 4G LTE smartphones on plans that include unlimited talk, text & data. Plus, you'll have access to all the Boost Perks, including exclusive offers, special deals, giveaways, and sweepstakes. Check the weekly ad above to see any current coupons, memberships deals, or a unique promo code for web offers. When needed, you can also use the hotspot feature to give your laptop, tablet, and other electronics internet!
What are the opening hours and store locations for Boost Mobile?
Regardless of where you live, chances are there is a Boost Mobile store near you. Just visit boostmobile.com to view all the store locations and opening hours for the closest one in your area. You can also browse the fine selection of mobile phones online and see all the current offers in the weekly ads. There are plenty of deals in the specials for this week and offers next week. If you find a phone you love, you can get the 7-day guarantee and free shipping to your home without all the hassles of going into one of the stores. Be sure to check the flyer to see if there are any new promotions where you can score low prices on the most popular devices. Once you are all signed up and ready to go, you can Re-Boost online or at select retail stores.
Your Boost Mobile store
View the most current ads and offers from Boost Mobile and never pay more than you should. Boost Mobile has 4993 stores in the United States of America with weekly competitive offers. In the latest Boost Mobile ad you will find offers, that are valid from 10-04-2023 to 10-07-2023. This week there are 24 products, which you can buy at a discount, and possibly for the lowest possible price. Don't miss out on offers such as: Apple iPhone 14 Plus, Apple iPhone 14 and Apple iPhone XS! Of course, Boost Mobile offers plenty of more products, which are currently not on sale. You can order these in the webshop or pick them up at a pickup point or shop in your area. Choose your nearest location with our "location finder" in the top menu, next to the search box. You can also find more information such as the opening hours of your store in Chicago IL, New York, Aberdeen MD or any other store in the United States of America on the Boost Mobile website.
If you can't find what you're looking for in the Boost Mobile ad, check for offers at similar stores in the same category: Electronics, such as Best Buy, Target or Game Stop. You may be able to find the product you are looking for at the lowest price there. In addition to the promotions from the ad, you can also save money at Boost Mobile with a discount code. Check the Boost Mobile website to get yours.
Frequently asked questions about Boost Mobile
Show all...
Boost Mobile promotions
🛍️

Boost Mobile ads:
1

🆕

New offers:
24

🏷️

Category:
Electronics

🕰️

Last flyer update:
04/17/2023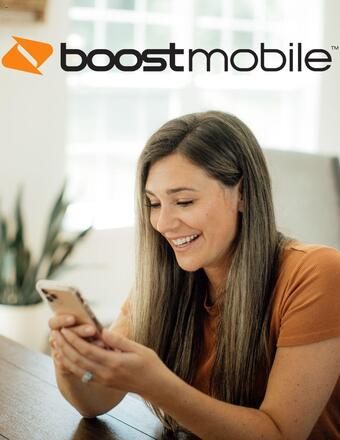 View the Boost Mobile ad in the app first!
View all leaflets and compare special offers from hundreds of stores near you!