Weekly ads from Compare Foods
Compare Foods Weekly Ad
Valid: 22 Sep until 28 Sep
This Compare Foods Weekly Ad filled with offers is still valid for 2 day(s). View the latest deals from Compare Foods and save on purchases at Compare Foods.
Keep me updated
Want to receive a notification when the newest Compare Foods ad is online?
57.212 people already preceded you
Keep me updated
Want to receive a notification when the newest Compare Foods ad is online?
18.463 people already preceded you
Compare Foods Weekly Ad and Deals
Compare Foods markets specialize in delivering top brands at great prices, including their own brand designed to embody the vibrancy and diversity of the neighborhoods it serves. Check out the Compare Foods flyer on this page for all the latest deals and promotions. Whether you are looking for your everyday grocery staples or something unique for that special meal, you'll find everything you need in the weekly ads. You can always find extra savings on trending products or essential groceries, such as cereals and beverages. The latest action in this market is generally based on the 'in-season' recipe magazine containing health articles, dietitian opinions, recipes and much more. In the weekly ads, you'll discover the best offers and specials that ensure an excellent shopping experience at the store. To find the newest sales ad, check this page or visit the website for the most exclusive offers and deals. Shop Compare Foods to Map Your Road to Savings and Quality!
What products are on sale in the Compare Foods Store?
The modern & vibrant features of this store support customers in finding different promotions for seasonal products, essential groceries, and other items offered in the weekly ads. In the special for this week and offer next week, you'll find big savings on products, including essential groceries, meat, fresh produce, deli delights, cheese, and a variety of other food items. Just check the weekly ad to score the best deals, and see if there is a promo code on any of your favorite products. But don't worry, this market is known for its quality, BOGO deals, and low prices, so either way, you'll find the best deals on everything you buy. If you're searching for new offers, membership deals, or coupons, just check the weekly special on this page, download the store app, or visit them on social media. Whatever your plans, you'll find all the products to make it the most memorable event!
What are the opening hours and store locations for the Compare Foods Stores?
You can find Compare Foods stores in places like New York City, Washington DC, Fayetteville, Trenton, and many other locations in the area. Just visit the website and search stores near me to see all the markets and the opening hours. You can also view the weekly ads online and create your shopping list after browsing all the great offers and specials at shopcomparefoods.com. These markets have tons of promotions in the ad each week, and you can view the recipes page for some excellent ideas when planning your meals for the week. You'll find ones catered to diabetes management, gluten-free food items, paleo-friendly products, and heart health. This store is known for the $6 concession cash and offering discounts on grocery products that are featured in the ad each week. You'll find whatever you need right here in this store's weekly ads. Remember, shop at Compare Markets to Map Your Road to Savings and Quality!
Your Compare Foods store
View the most current ads and offers from Compare Foods and never pay more than you should. Compare Foods has 47 stores in the United States of America with weekly competitive offers. In the latest Compare Foods Weekly Ad you will find offers, that are valid from 22-09-2023 to 28-09-2023. This week there are 0 products, which you can buy at a discount, and possibly for the lowest possible price. Don't miss out on offers such as: Quaker premium instant or fruit fusion oatmeal, Sprouts air-chilled chicken drums or thighs and Rana pasta or sauce! Of course, Compare Foods offers plenty of more products, which are currently not on sale. You can order these in the webshop or pick them up at a pickup point or shop in your area. Choose your nearest location with our "location finder" in the top menu, next to the search box. You can also find more information such as the opening hours of your store in New York, Bay Shore NY, Brentwood NY or any other store in the United States of America on the Compare Foods website.
If you can't find what you're looking for in the Compare Foods ad, check for offers at similar stores in the same category: Grocery, such as Aldi, Dollar General or Albertsons. You may be able to find the product you are looking for at the lowest price there. In addition to the promotions from the ad, you can also save money at Compare Foods with a discount code. Check the Compare Foods website to get yours.
Frequently asked questions about Compare Foods
Show all...
Compare Foods promotions
🛍️

Compare Foods ads:
1

🆕

New offers:
0

🏷️

Category:
Grocery

🕰️

Last flyer update:
09/23/2023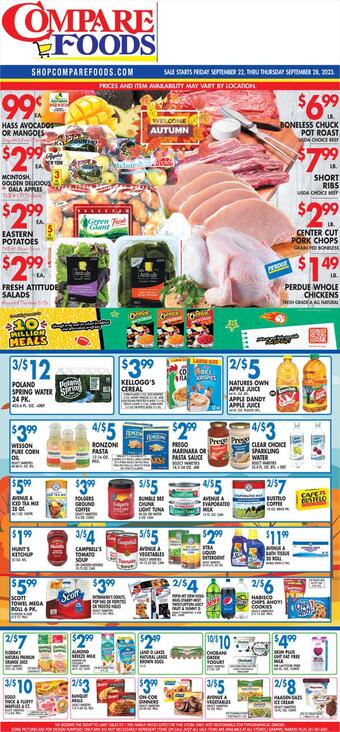 View the Compare Foods ad in the app first!
View all leaflets and compare special offers from hundreds of stores near you!