Flyers from Ralphs
Ralphs ad
Valid: 31 May until 6 Jun
This Ralphs ad filled with offers is still valid for 5 day(s). View the latest deals from Ralphs and save on purchases at Ralphs.
Keep me updated
Want to receive a notification when the newest Ralphs ad is online?
11.136 people already preceded you
Keep me updated
Want to receive a notification when the newest Ralphs ad is online?
54.211 people already preceded you
Ralphs Weekly Ad and Deals
Ralphs's grocery stores are based in Southern California and are considered one of the oldest, largest, and finest supermarket chains around. They have been serving communities for over 100 years and delivering some of the best products available today. Check out the Ralphs flyer on this page to view all the latest deals and offers on a large variety of great products with competitively low prices. Whether you are looking for new ideas to cook for dinner or know exactly what you need, you'll find it all in one of these markets. When you browse the weekly ads, you will find fantastic deals and promotions on all of your favorite items. They carry a fine selection of fresh produce, meat, beverages, snacks, and all your essential groceries. The newest sales ad is always available right here, and you can visit the store website to find even more exclusive offers and deals. Shop Ralphs, Fresh Food, Low Prices!
What products are on sale in the Ralphs Stores?
Ralphs markets offer a wide selection of products, from dairy and seafood to general merchandise. The circular ad shows all the latest promotions on baked goods, frozen food items, and essential groceries. In the specials for this week and offers for next week, you'll find amazing deals with big savings on all your favorite products, including fresh produce, value meat cuts, and a vast selection of quality wines. This grocery store's circular ad shows all the offers with a discount and deals on bakery and deli, natural and organic products, baby supplies, and health and wellness items. In the weekly ads, you can also find bulk deals on particular products and a wide range of things, including pet and school supplies. Just check the weekly ad to see where you can score the best deals and if there's a promo code to get even a more significant discount on the already low prices. Check all the membership deals, coupons, and the weekly special on this page or download the app.
What are the opening hours and store locations for Ralphs Stores?
These stores are scattered throughout Southern California, and you can easily find these markets in places like Anaheim, Los Angeles, Newport Beach, San Diego, Santa Monica, West Hollywood, and more. Just visit the website and search for stores near me to view all locations and opening hours for the market closest to your area. You can also view the weekly ads for all the great offers and promotions online at ralphs.com and sign up for the Ralphs Shopper's Card. You can also create your shopping list and have your groceries delivered right to your doorstep, or you can opt for curbside pickup if you want to skip the line. Ralphs markets understand the needs of each customer and strive to provide the best shopping experience possible by offering exceptional deals and services such as online refills at Ralphs Pharmacy, fuel points, and so much more. Remember, shop at Ralphs, Fresh Food, Low Prices!
Your Ralphs store
View the most current ads and offers from Ralphs and never pay more than you should. Ralphs has 196 stores in the United States of America with weekly competitive offers. In the latest Ralphs ad you will find offers, that are valid from 31-05-2023 to 06-06-2023. This week there are 0 products, which you can buy at a discount, and possibly for the lowest possible price. Don't miss out on offers such as: Easy breathe claritin, Coke, diet coke or sprite and Center cut pork loin chops! Of course, Ralphs offers plenty of more products, which are currently not on sale. You can order these in the webshop or pick them up at a pickup point or shop in your area. Choose your nearest location with our "location finder" in the top menu, next to the search box. You can also find more information such as the opening hours of your store in Los Angeles CA, Agoura Hills CA, Alhambra CA or any other store in the United States of America on the Ralphs website.
If you can't find what you're looking for in the Ralphs ad, check for offers at similar stores in the same category: Grocery, such as Aldi, Dollar General or Food Lion. You may be able to find the product you are looking for at the lowest price there. In addition to the promotions from the ad, you can also save money at Ralphs with a discount code. Check the Ralphs website to get yours.
Frequently asked questions about Ralphs
Show all...
Ralphs promotions
🛍️

Ralphs ads:
1

🆕

New offers:
0

🏷️

Category:
Grocery

🕰️

Last flyer update:
05/30/2023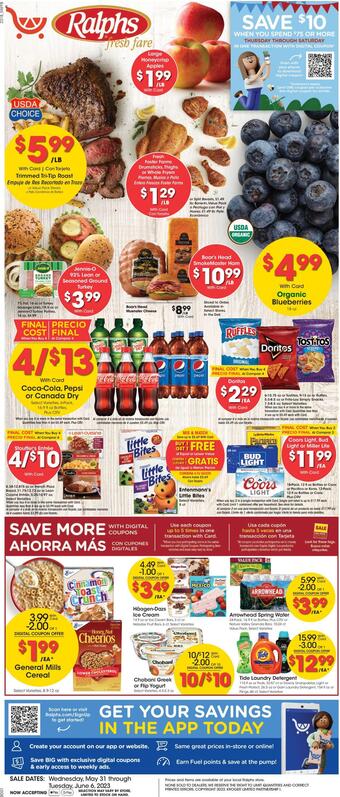 View the Ralphs ad in the app first!
View all leaflets and compare special offers from hundreds of stores near you!