Weekly ads from Food Fair
Food Fair Weekly Ad
Valid: 21 Sep until 27 Sep
This Food Fair Weekly Ad filled with offers is still valid for 1 day(s). View the latest deals from Food Fair and save on purchases at Food Fair.
Keep me updated
Want to receive a notification when the newest Food Fair ad is online?
39.458 people already preceded you
Keep me updated
Want to receive a notification when the newest Food Fair ad is online?
18.140 people already preceded you
Food Fair Market Weekly Ad and Deals
Food Fair Market has been serving its local community for more than 50 years and has expanded its reach into the Tri-State area with 14 stores to serve the local areas. Food Fair Market prides itself in offering competitively priced groceries with outstanding customer service. When you browse the Food Fair flyer, you will find incredible deals on all your favorite items. They only offer the best products at low prices, which makes them different from other stores. Browse the Food Fair Market weekly ads on this website to see all of the events and benefit from discounts on all your favorite baked goods, home essentials, and tons of other items. The most recent sales ad is always available here, and you might find even more exclusive offers and deals on the store's website. Shop at the Food Fair Market, where everything is delightfully local and deliciously fresh!
What products are on sale in the Food Fair Market?
This Market has everything you need, like essential grocery items, dairy, fresh produce, meat, deli, fish, bakery & florals departments, and much more. In the specials for this week and the offers next week, you might find deals with substantial discounts on all your favorite products, including seasonal vegetables, exclusive deals on prime cuts, specialty products, and pantry items. The circular ad for this grocery store lists plenty of sales and price reductions offered on all of the top frozen food products and trending goods. Just check the weekly ad to see where you can score the best deals and if there's a promo code to get a better discount on the already low prices. You will find all the membership deals, coupons, and the weekly special on this page. You can also follow the store on social media to see all the latest deals, find extra bargains, and save even more money. Also, download the store app to search and order products quickly and easily.
What are the opening hours and store locations for the Food Fair market?
Food Fair markets are located in cities like Wheelersburg, Charleston, Huntington, South Point, and many other Tri-State areas. You can easily find one of these stores nearby. Just visit the website and search stores near me to see all the locations and opening hours. You can also view the weekly ads while shopping for all the great deals online at foodfairmarkets.com, and if you don't live nearby, you can have all your favorite items shipped directly to your home. The website of this market also has a recipe section with delicious offers to make your dinner extra special. When customers walk into one of these establishments, they work hard to put them at ease. They promote a pleasant shopping environment where people can discover tremendous value in the consistently low pricing and feel at home as they take advantage of the great specials and promotions. Remember, shop at the Food Fair Market, where everything is delightfully local and deliciously fresh!
Your Food Fair store
View the most current ads and offers from Food Fair and never pay more than you should. Food Fair has 0 stores in the United States of America with weekly competitive offers. In the latest Food Fair Weekly Ad you will find offers, that are valid from 21-09-2023 to 27-09-2023. This week there are 0 products, which you can buy at a discount, and possibly for the lowest possible price. Don't miss out on offers such as: Cotija cheese, Pepperidge farm goldfish crackers and Safety 1st filter free cool mist humidifier, blue! Of course, Food Fair offers plenty of more products, which are currently not on sale. You can order these in the webshop or pick them up at a pickup point or shop in your area. Choose your nearest location with our "location finder" in the top menu, next to the search box. You can also find more information such as the opening hours of your store in Chicago IL, Los Angeles CA, Miami or any other store in the United States of America on the Food Fair website.
If you can't find what you're looking for in the Food Fair ad, check for offers at similar stores in the same category: Grocery, such as Aldi, Dollar General or Albertsons. You may be able to find the product you are looking for at the lowest price there. In addition to the promotions from the ad, you can also save money at Food Fair with a discount code. Check the Food Fair website to get yours.
Frequently asked questions about Food Fair
Show all...
Food Fair promotions
🛍️

Food Fair ads:
1

🆕

New offers:
0

🏷️

Category:
Grocery

🕰️

Last flyer update:
09/23/2023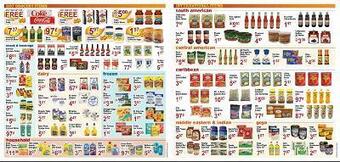 View the Food Fair ad in the app first!
View all leaflets and compare special offers from hundreds of stores near you!