Flyers from Lunardis
Lunardis ad
Valid: 30 May until 6 Jun
This Lunardis ad filled with offers is still valid for 5 day(s). View the latest deals from Lunardis and save on purchases at Lunardis.
Keep me updated
Want to receive a notification when the newest Lunardis ad is online?
11.056 people already preceded you
Keep me updated
Want to receive a notification when the newest Lunardis ad is online?
48.421 people already preceded you
Lunardi's Weekly Ad and Deals
If you haven't seen the Lunardi's ad this week, you are definitely missing out! There are tons of specials on the finest full selection of meats and an entire fresh seafood collection. You also find other deals on organic produce, grocery favorites, frozen foods, dairy items, and a wide selection of promotions on delicatessen and bakery treats. If you are looking for the freshest ingredients around, you'll find them at this store in the specials for this week and the offers next week. Whenever something is in season, you'll get low prices on the highest quality and freshest products found in markets anywhere. Shop Lunardi's, Where Service Is Their Specialty!
If you live in or traveling through California, you'll find these stores in cities like Belmont, Danville, and San Bruno. If you want to see the closest location to you, visit their website and check out all the locations and opening hours for each market. You can download the Instacart app to have your groceries delivered, but first, check out the weekly ads and then create your shopping list online. Don't forget to sign up for the email promotions by becoming a Lunardi's VIP, where you can view the sales ad, see what's on sale each week, and get access to additional specials and offers. You will also score big savings by getting $5 Off your first purchase of $50 or more just for signing up.
Want to get even more offers? Join the Birthday Club and receive special deals on your special day! Just visit www.lunardis.com to get started, and soon you'll be reaping all the benefits from the membership deals, including coupons and a promo code when available. You can also view the flyer and browse the catering menu for whenever you are hosting a big or small party to celebrate your loved ones. If you are a senior citizen, you can get a 5% discount in all their stores on Tuesdays and Thursdays. Just be sure to check the weekly ad to see what's in the promotion. Remember, shop Lunardi's, Where Service Is Their Specialty!
Your Lunardis store
View the most current ads and offers from Lunardis and never pay more than you should. Lunardis has 0 stores in the United States of America with weekly competitive offers. In the latest Lunardis ad you will find offers, that are valid from 30-05-2023 to 06-06-2023. This week there are 0 products, which you can buy at a discount, and possibly for the lowest possible price. Don't miss out on offers such as: Coke, diet coke or sprite, Center cut pork loin chops and El mexicano aloe vera drink, original, 16.9 fl oz (1.05 pints) 500 ml! Of course, Lunardis offers plenty of more products, which are currently not on sale. You can order these in the webshop or pick them up at a pickup point or shop in your area. Choose your nearest location with our "location finder" in the top menu, next to the search box. You can also find more information such as the opening hours of your store in Chicago IL, Los Angeles CA, Miami or any other store in the United States of America on the Lunardis website.
If you can't find what you're looking for in the Lunardis ad, check for offers at similar stores in the same category: Grocery, such as Aldi, Dollar General or Food Lion. You may be able to find the product you are looking for at the lowest price there. In addition to the promotions from the ad, you can also save money at Lunardis with a discount code. Check the Lunardis website to get yours.
Frequently asked questions about Lunardis
Show all...
Lunardis promotions
🛍️

Lunardis ads:
1

🆕

New offers:
0

🏷️

Category:
Grocery

🕰️

Last flyer update:
05/30/2023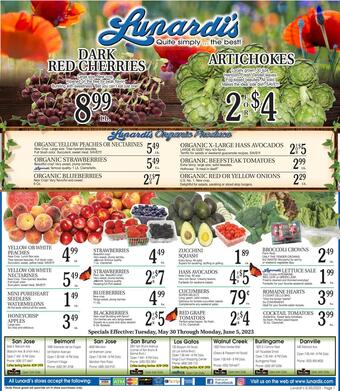 View the Lunardis ad in the app first!
View all leaflets and compare special offers from hundreds of stores near you!