Flyers from Rancho Markets
Rancho Markets ad
Valid: 30 May until 6 Jun
This Rancho Markets ad filled with offers is still valid for 4 day(s). View the latest deals from Rancho Markets and save on purchases at Rancho Markets.
Keep me updated
Want to receive a notification when the newest Rancho Markets ad is online?
16.476 people already preceded you
Keep me updated
Want to receive a notification when the newest Rancho Markets ad is online?
34.500 people already preceded you
Rancho Markets Weekly Ad and Deals
Rancho Markets is a Utah-borne company and a leader in the supermarket industry. The store has been giving back to the community and delivering quality service since 2006. The store's mission is to place customers above all while providing the best prices and quality products in all its stores. Check out the Rancho Markets flyer on this page for the latest deals, best offers, and specials. The weekly ads showcase all the promotions and actions for the week on all your favorite products. Whether you want to experience the ninety different flavors of Paleteería and Nevería or learn about cooking exceptional cuisine, you'll find all those details in the circular and on the store website. You will also discover an extensive selection of imported items to give your food some extra flair and flavor. The latest sales ad can always be found here on this page with all the latest offers and deals. Shop Rancho Markets, Your Grocery Store!
What products are on sale in the Rancho Markets?
Rancho Markets offers an impressive list of products on sale each week in the ads. You'll find deals and BOGO offers for traditional grocery staples, fresh produce, bakery items, seafood, prime meat, and more. This store offers different membership deals and coupons to best serve its customers, including a weekly special to compliment the season. If you are planning a party or just want to have a backyard bbq, you'll find everything you need in one of these markets. The specials for this week and offers next week deliver big savings on the most trending products. You can explore all the exclusive offers, discounts, and deals in the circular ad, including sales on shrimp, cheeses, fresh-cut steaks, spices, paper products, beverages, and other dry groceries. You don't need a promo code or special coupon to score the best deals, just check the weekly ads or download the store app to see the latest deals and offers with low prices on all your favorite things.
What are the opening hours and store locations for Rancho Markets?
Rancho Markets are located in places like Salt Lake City, Provo, Ogden, and West Valley City. Just visit the website to see all the locations and search stores near me to view the opening hours and offered services. You can also create your shopping list and browse the latest deals in the weekly ads online at www.ranchomarkets.com. You can also explore all the great recipes on their page and find new meal ideas each week. They offer freshly made corn and flour tortillas with no preservatives, a variety of sweet bread like churros, conchas, and donuts, and proudly sell five-star quality meat. There are hundreds and thousands of products to choose from in these markets. Depending on the time of the year, you can find exclusive promotions in the weekly ads that boast the best offers. Remember, shop at Rancho Markets to find the best prices on quality products!
Your Rancho Markets store
View the most current ads and offers from Rancho Markets and never pay more than you should. Rancho Markets has 6 stores in the United States of America with weekly competitive offers. In the latest Rancho Markets ad you will find offers, that are valid from 30-05-2023 to 06-06-2023. This week there are 0 products, which you can buy at a discount, and possibly for the lowest possible price. Don't miss out on offers such as: Our family soda club 1 liter bottle, Refresh lubricant eye drops, moisturizing relief and Sara lee bread, honey wheat, 20 oz (1 lb 4 oz) 567 g! Of course, Rancho Markets offers plenty of more products, which are currently not on sale. You can order these in the webshop or pick them up at a pickup point or shop in your area. Choose your nearest location with our "location finder" in the top menu, next to the search box. You can also find more information such as the opening hours of your store in Magna UT, Provo UT, Salt Lake City UT or any other store in the United States of America on the Rancho Markets website.
If you can't find what you're looking for in the Rancho Markets ad, check for offers at similar stores in the same category: Grocery, such as Aldi, Dollar General or Food Lion. You may be able to find the product you are looking for at the lowest price there. In addition to the promotions from the ad, you can also save money at Rancho Markets with a discount code. Check the Rancho Markets website to get yours.
Frequently asked questions about Rancho Markets
Show all...
Rancho Markets promotions
🛍️

Rancho Markets ads:
1

🆕

New offers:
0

🏷️

Category:
Grocery

🕰️

Last flyer update:
05/30/2023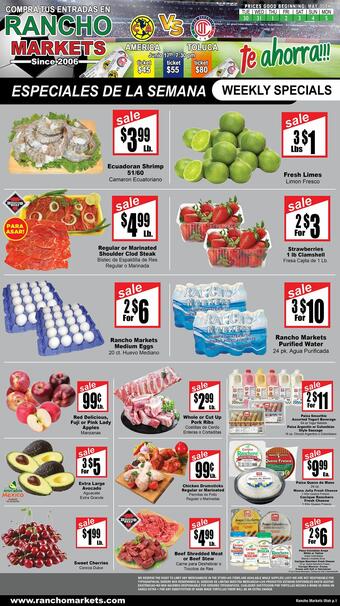 View the Rancho Markets ad in the app first!
View all leaflets and compare special offers from hundreds of stores near you!